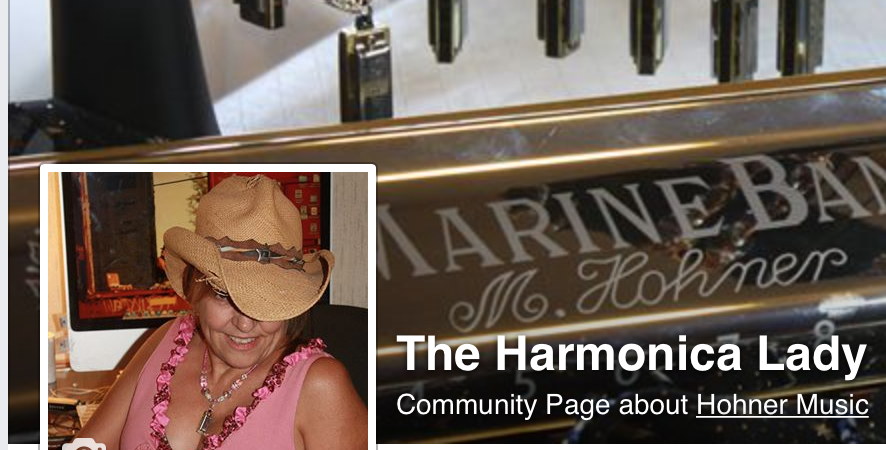 Well this year I hit the road to take my show to San Antonio for this years SPAH 2016 SPAH's annual convention, August 8th to Aug 13th
with lots of seminars, tons of great performers, a wonderful banquet, and more harmonica jamming than you could imagine.
What is SPAH you ask well it is:
The Society for the Preservation and Advancement of the Harmonica, known as SPAH, is an international non-profit (501(c)3) organization incorporated in the State of Michigan in 1963 by a small group of visionary harmonica enthusiasts who were passionate about the instrument and about its relevance to historical, contemporary and future music. Check out on the link below.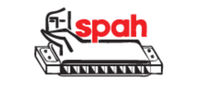 SPAH wants to inform everyone about the rich heritage of harmonica music, the many talented musicians currently playing diverse styles of music with this phenomenal instrument and the great pleasure to be derived from learning to play the harmonica.

As The Harmonica Lady I am a Hohner Representative and will have a lots of new and cool items for sale. The link here can give you some information on  Hohner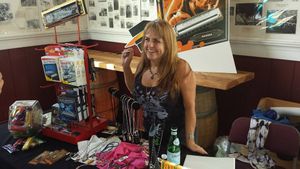 Gonna Bee BUZZ BUZZ fun!
Lots of great music day and night Check out my blog on my NJR page from years past Nedra other blogs on the Music page.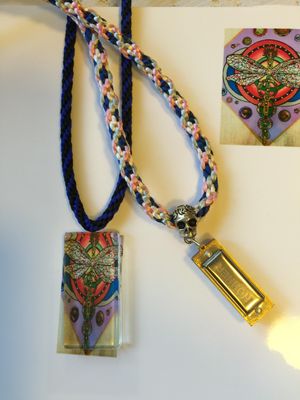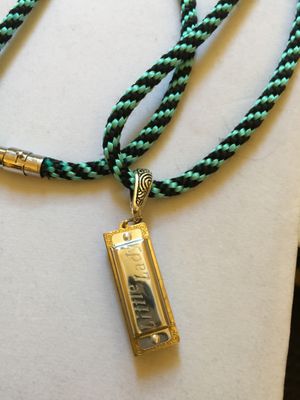 So getting ready is what I am doing right now, planned the trip, ordered new product and am busy making lots of one of a kind neckwear. New to the line is the Kumihimo which is the traditional Japanese technique of braiding strands of silk to create intricately colored cords. The cords, also called kumihimo, are strong but slender, and have a multitude of uses. Samurai once used kumihimo as laces for their armor. The traditional belt of the kimono, the obi, was once bound by a cord of kumihimo called an obijime. It is an art both culturally significant and beautiful.  
In Japanese, the word kumihimo means to gather or combine cord or thread. As the ornately jewel-like ropes suggest, modern kumihimo can involve many strands. At first, the process was done entirely by hand without the help of any sort of tool. These earliest kumihimo are generally monochromatic or at least very limited in color. Later, weavers developed tools that could accomplish more complicated patterns, permitting makers to include more colors. The first kumihimo looms, called takadai and marudai, are rather large and unwieldy, and fairly stationary. I love the fact that I can combine many colors or just one color. 
                      So how about that, beautiful elegant and strong, just what we like!

                                                          I will have all price ranges and different options hey you may just have to buy more then one..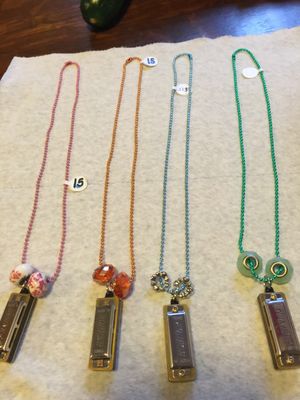 I will be making them in different lengths and with the always fully tuned in C Little lady Harmonicas . I will also have a few of the less expensive toy neckwear for the kids or for the non playing harmonica supporters.. 

I will have the Little Lady 50th Anniversary Space necklaces .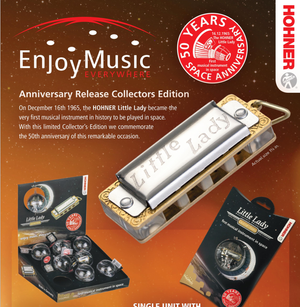 I have been painting small works and having greeting cards made for sale to show how much you love harmonica too...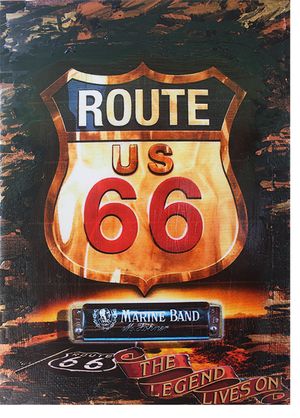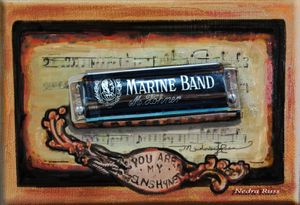 I plan to update the Facebook pages as we go with photos and videos so hit like on the lines below to say tuned. .  

Nedra and Julio's Music Facebook page                The Harmonica Lady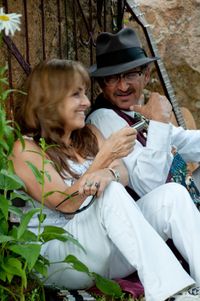 Creating the Music  
Nedra Russ & Julio Guerra  
This husband and wife acoustic duo will show you how a team works, writing original material, working out songs, making cover tunes your own and doing shows. You don't have to be in a duo to attend. Bring your harps.


visit the link below to see all of the Seminars this year