"Route 66 has a spirit. It's alive, and it's growing all the time." 
Back story on my work Route 66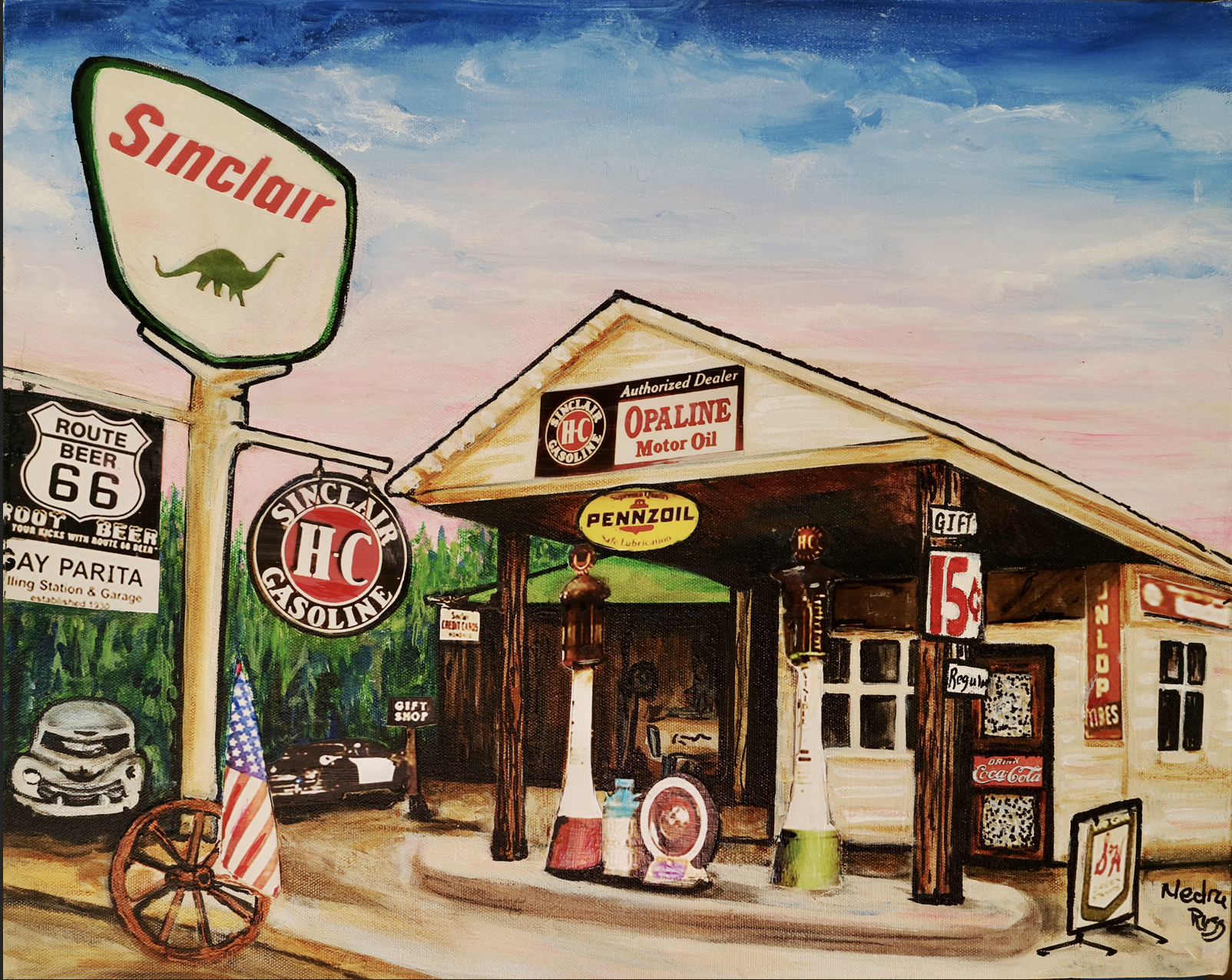 Garys Gay Parita 
a replica 1930 Sinclair fuelling station. 
Travelling to SPAH 2016 we stayed in Kingman Az at the Ramada retro route 66 hotel it had lots of crazy cool murals all over the walls and retro photos just the coolest stop on the trip. 
I took lots of photos with one of the Gay Parita that hung on the walls off the excellent bar and  restaurant at the Kingman Ramada  not really knowing much about it all I just was drawn to it and felt like it would be inspiration in the future and boy is it. 
So as a traveler all my life first as a young child born in the bay area of California we traveled route 66 to visit family from California to South Carolina  we moved back to the Charleston South Carolina in the 70s so as a teen lots of back and forth between the two places. 
I attended high school Amador high CA. and Goose Creek high SC  so I had lots of friends and love of all things life so travel just became a part of me. 
Once I grew up I have also traveled allot my first husband a long haul truck driver, motorcycle enthusiast we spent many hours on the road. Both for money and pleasure roaring down the HWY with 500 Harleys the sound like thunder the freedom of the open road coursing through out your veins. One thing holds true you had to work to have fun and that was the dream. 
Now as The Harmonica Lady and NJR music my guitar playing 3 rd husband and I also love to get out on the road and go to our shows to meet and play our songs that we both co write and produce. Thus this photo on our way the the SPAH (SPAH —the Society for the Preservation and Advancement of the Harmonica)  convention this one was in San Antonio Texas in 2016 a turning point in American History yes we were on the road . 
Also being an old school sign maker all by hand a dying art. I love the old school signs of long ago. A time passed. 
I loved the old signs and have reflected that often in my fine art so this was pure inspiration to me. 
So years later I sat down to do this mixed media work acrylic and photos of an old gas station. 
That takes one back to when you'd hear the bell go off as you drive in then the attendant runs to put in your gas, check you oil, and clean your windows the good old days of service with a smile. I had a job at the Jackson Shell collecting money and then running the mini mart, now a days you can pay at the pump 24 seven. 
The times they are a changing. 
So of late I looked into the Gay Parita and found no photo that looks exactly like my work or the photo I had taken this puzzled me and I was obsessed to find out more is this a chain of tourist attractions why did I take the photo in Kingman when they do not have one there? 
I did find an interesting story about the Gay Parita but no photos that looks like mine. Granted I did take artists license and changed the painting from even my photo. 
Here is a link to the rest of the story 
https://www.routemagazine.us/stories/friends-for-life 
So we called Barbara to solve the mysteries and wow. The rest of the story
What had happened is when her mom and dad passed she had to organise things to take over and she had to leave for a time and many of the original signs and items were stolen so the photo I had stumbled on was from before all of that "this gave me goose bumps" it is like he lives on now through this painting of mine . She was thrilled to see the photo and the painting and really loves it. We talked about our next trip to Missouri, on Route 66, as next next years 60th diamond  SPAH is back in Saint Louis So we talked about stoping buy to meet and see the place. 
I felt her dad saying remember how I had the place carry on all.You are doing a great job Barb! 
Route 66 has a spirit. It's alive, and it's growing all the time." 
Even in death, his spirit is helping fuel that flame.
Route 66 has been accepted into the Placerville Arts Association's 56th National Mother Lode Art Exhibition.November 3-19, 2022 
Mills Station Arts and Culture Center, 10191 Mills Station Road, Rancho Cordova, California