1: As this is your first trip Tell us how it all began for you how you came to love and play the Harmonica?
I began plinking out melodies on the piano at the age of 4, so by the time I first encountered the harmonica at age 10 my passion for music had already been ignited. I remember the exact moment I was bitten by the harmonica bug. I was on a Boy Scout camp-out in the Las Padres National Forest. As we sat around the campfire, my Scoutmaster pulled out his Marine Band in the key of C and broke into a spirited version of "Wildwood Flower" in old-school/straight harp/tongue-blocking style... I was mesmerized! 
I immediately asked him to teach me to play, and the Wildwood Flower became my first song. I still love playing it to this day. There was just something magical about the harmonica that spoke to my soul. The tone delighted me and the lay-out of the notes made sense from the moment I first stuck one in my face. For the first four years of my harmonication I played only 1st position which, as it turns out, was a real blessing. Because I was unaware of note-bending and blues riffs, I focused on the actual melodies of fiddle tunes and folk songs. This definitely had a positive influence on my development as a musician; melodicism is an integral element of my style today.
2: Can you tell us of some of your adventures on the Road with some of the best country players and who they are?
In reality there are very few players out there who specialize in Country. But I was fortunate enough to meet the undisputed King of Country Harp --- Charlie McCoy --- at the San Luis Obispo County Fair in Paso Robles CA just down the road from my tiny hometown of Templeton. He was kind enough to speak to me after his concert and even took time to listen to me play. By this time I was 15 and had voraciously consumed every album he'd put out and dissected every riff he'd played. His reaction to my shaky-kneed performance was "Sounds just like the record. Stay out of Nashville." A characteristically dry-witted compliment from my harmonica hero, but a compliment nonetheless!
Over the years Charlie quietly became my guardian angel, recommending me for my Hohner endorsement (in 1984) and setting up my audition for Loretta Lynn's band which resulted in her hiring me in 1985. The cool thing is, both of these gestures were unsolicited and took me completely by surprise!
Because we Country harpists are few and far between, our encounters with one another are all the more memorable. TJ Klay, a fine country player from Nashville and SPAH workshop presenter, met out in Oregon about 30 years ago jamming at a fairgrounds between shows. But we didn't play country --- we were working up Norton Buffalo's amazing solo on Bonnie Raitt's version of "Runaway"!. Recently TJ and I reconnected via FaceBook and we both remembered our 1982 meeting as if it was yesterday! He and Todd Parrott ( a new buddy of mine who's a great gospel/blues over-bend player) have asked me to be a guest presenter at their country/gospel workshop at SPAH this August.
Living in Nashville for the nine years I was with Loretta, I had the chance to meet some great country players: Kirk "Jellyroll" Johnson --- another disciple of Charlie's clean, pure melodic style, Kirk is one of my favorite players who's music can be heard on a lot of Nashville hits. I also got to meet and jam with the late great Terry McMillan who's rhythmic, dynamic style can be heard on many a country hit. 
Most recently I've had the pleasure of making gospel harpmeister Buddy Greene's acquaintance. Just last week (5/28/12) he took time out of his busy schedule to meet with me and jam for two hours...it was great fun! He too is a McCoy-style player who gives Charlie all the credit he deserves for influencing his style. Buddy is one of my VERY favorite players and I look forward to more musical fellowship with him. His new CD --- "Harmonica Anthology" is killer, by the way...I highly recommend it. Charlie McCoy makes a guest appearance on two different tracks.
3:Tell us about being musical Director Harmonica master at Country tonight! 
I'm blessed to be able to say "I love my job" and really mean it, that's why I'm proud to be in my 16th season here at Country Tonite. It's an excellent show with a great band (if I do say so myself!) and a truly talented cast of singers and dancers too. Born and developed out in Las Vegas, the show ran for eleven years at the Aladdin Hotel & Casino to rave reviews and packed houses. In fact, it was so successful that they expanded to Branson, Missouri and Pigeon Forge Tennessee as well. The producer had the good taste to recognize the value of harmonica in country music, so Country Tonite has always had harp.
The best way to describe our show is that it's got the talent level, energy and pace of a Vegas show, but is built around Country Music --- covering everything from the classics to current rockin' hits. Though we are a "production" show, we focus on the music first and foremost. To be honest, I had my reservations about playing in a production show because I was afraid that glitz,glamor, smoke and mirrors would detract from the music, but I was wrong ---and I'm glad! I learned that when you have a strong musical foundation, a show is just made that much better by good production. My snobbery/bias against production shows was cured, and now I get to perform in the best of both worlds.
As Music Director, my job is to take the songs our producer chooses and arrange them into condensed-yet-complete-sounding versions that are customized and matched to our performers' strengths. (This allows us to fit 40-50 songs into a two-hour show with something for everyone).Then I write all the charts and rehearse the band to hone the arrangements; conferring with the producer, host, choreographer, lighting director, sound techs, etc. to make sure the music jives with all the other aspects of the show. As for my harp responsibilities, they are much the same as a fiddle player's are in most country bands. I've got a few intros,solos and lots of fills, plus a couple of harp features ("Orange Blossom Special" and "Amazing Grace" this year). 
But what about our fiddle player? A few years ago we were unable to find a qualified fiddle player before the season opened, so the producer asked me to take up the slack on harmonica until we found one. When I told Buddy Greene this story at our jam last week he jokingly said, "I love it! A harp player stole a gig from a fiddle player!". I took up the slack for the fiddle for over 10 years, until finally this year we hired an eleven-year-old vocalist (Colin Chandler) who has ended up being a prodigy on the fiddle. He's only been playing for 5 months and is already playing on stage; in tune, in time and very well. (I hate that kid!) . Luckily, I'm his boss and am bigger than he is, so I still get to play a lot!
I'd love for y'all to come hear us and we can have some harp-talk after the show; maybe even a workshop. Anyone reading this is automatically qualified for half-price tickets, so c'mon to the beautiful Smokey Mountains of Tennessee and support Country Harp!
------------------------------------------------------------------------------------------------------------------------------------------------------------------------------------------------------------------------------------------------------------------------
Well Mike myself and the all of SPAH can not wait to meet you and talk to you in person thank you for the time here at Nedra's Blog!
Thank YOU, Sweet Lady. I really appreciate you taking the time to get to know "the new kid". I'm uber-excited about meeting you and all my new harpsters -in-crime at SPAH...have a safe road trip and Keep On Harpin'!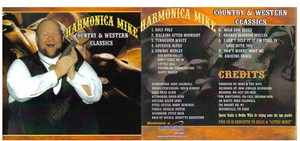 read the review by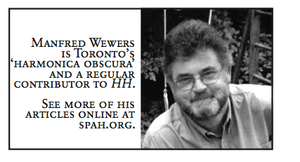 Thanks You Mike a new Friend for me indeed!